Paul McCartney 7" Singles Box Set
This is the difference between the sale price and resell price. It does not take into account any costs associated with reselling. Things like shipping, storage fees, if applicable.
550
Sale Price. The price at which the reseller purchased the item.
1,500
Resell Price. The price at which the reseller sold the item.
In Winter 2022, Paul McCartney released this box set limited to 3,000 units. It includes 80 career-spanning 7" singles, and sold out after a few days of going live on his webstore.
Timeline
Announcement
Paul McCartney Announces the Box Set
Paul McCartney announced the box set's December 2nd release on his personal site and various social media channels.

Back Button
https://www.paulmccartney.com/news/paul-announces-the-7-singles-box
Pre Order
Pre Orders Open on Paul McCartney's Site
Pre orders for the box set went live at the same time Paul announced the collection at a retail price of $611.98. An available coupon at the time would bring the order total down a further 10% to $550. There was a limit of 2 units per order.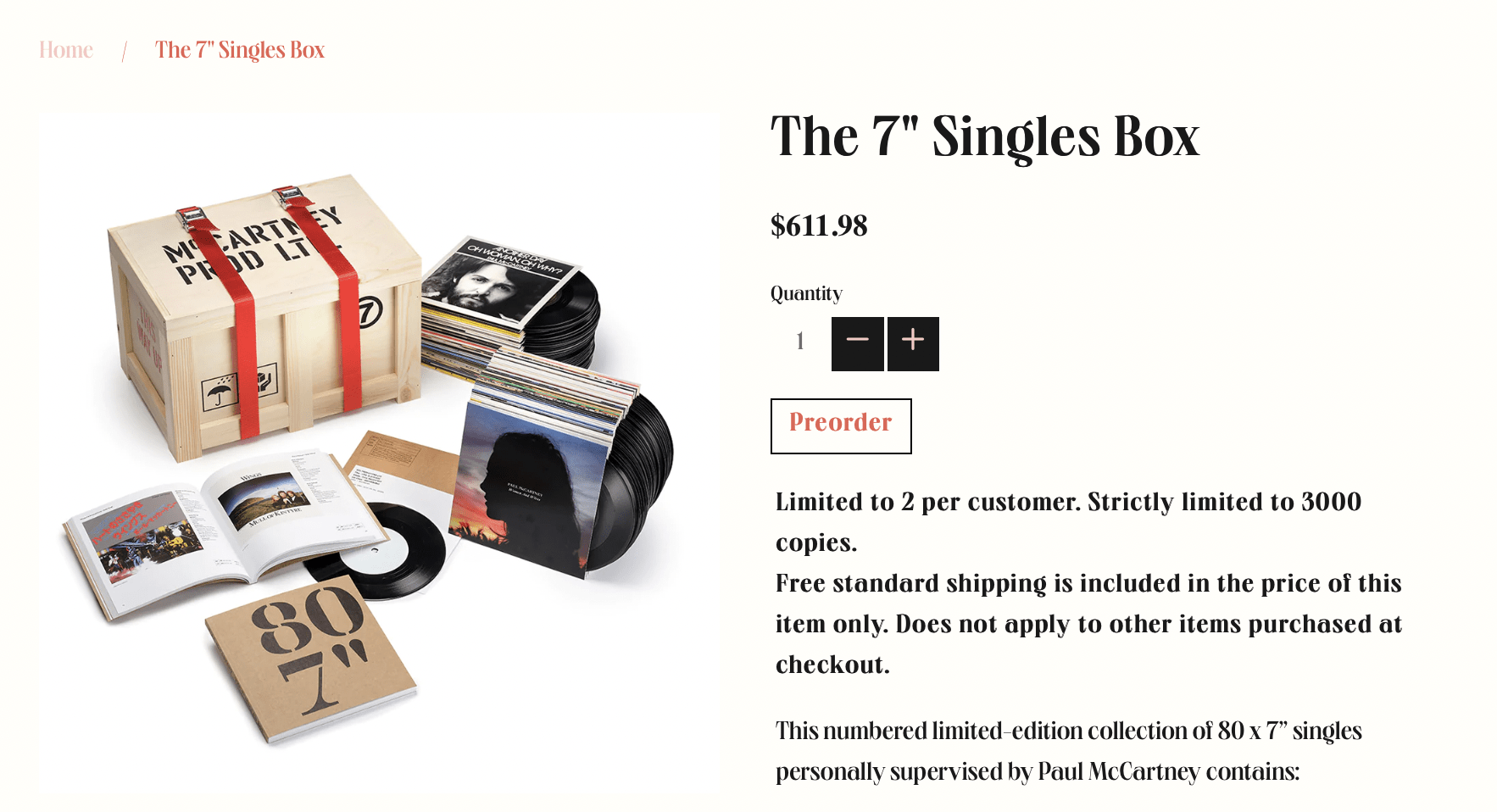 Sold Out
All Pre Orders Sell Out
At around 11:15 AM PST, just 2 days after going live, pre orders were completely sold out on Paul McCartney's website — an impressive feat for such an expensive set.
Release Day
The Box Set Releases
The Paul McCartney 7" Singles Box Set officially releases worldwide. Those who had pre ordered a month earlier were now sent their boxes.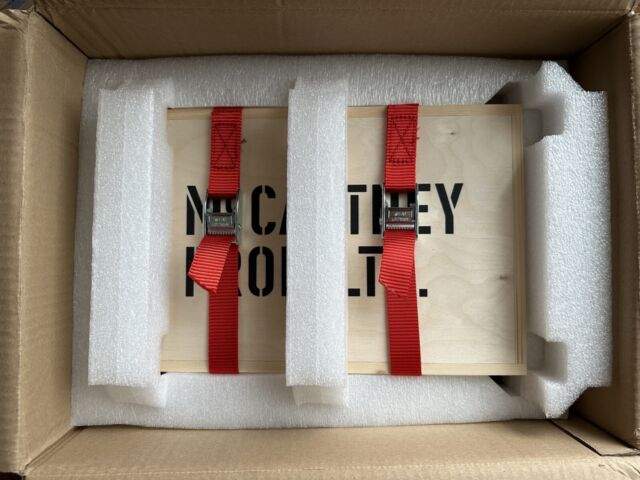 Resell
The 7" Singles Box Set Resells on eBay for $1,500
Leading up to the 2022 holiday season, the box set was actively reselling on eBay for at and around the $1,500 mark — spelling nearly $1,000 in profit per unit for resellers.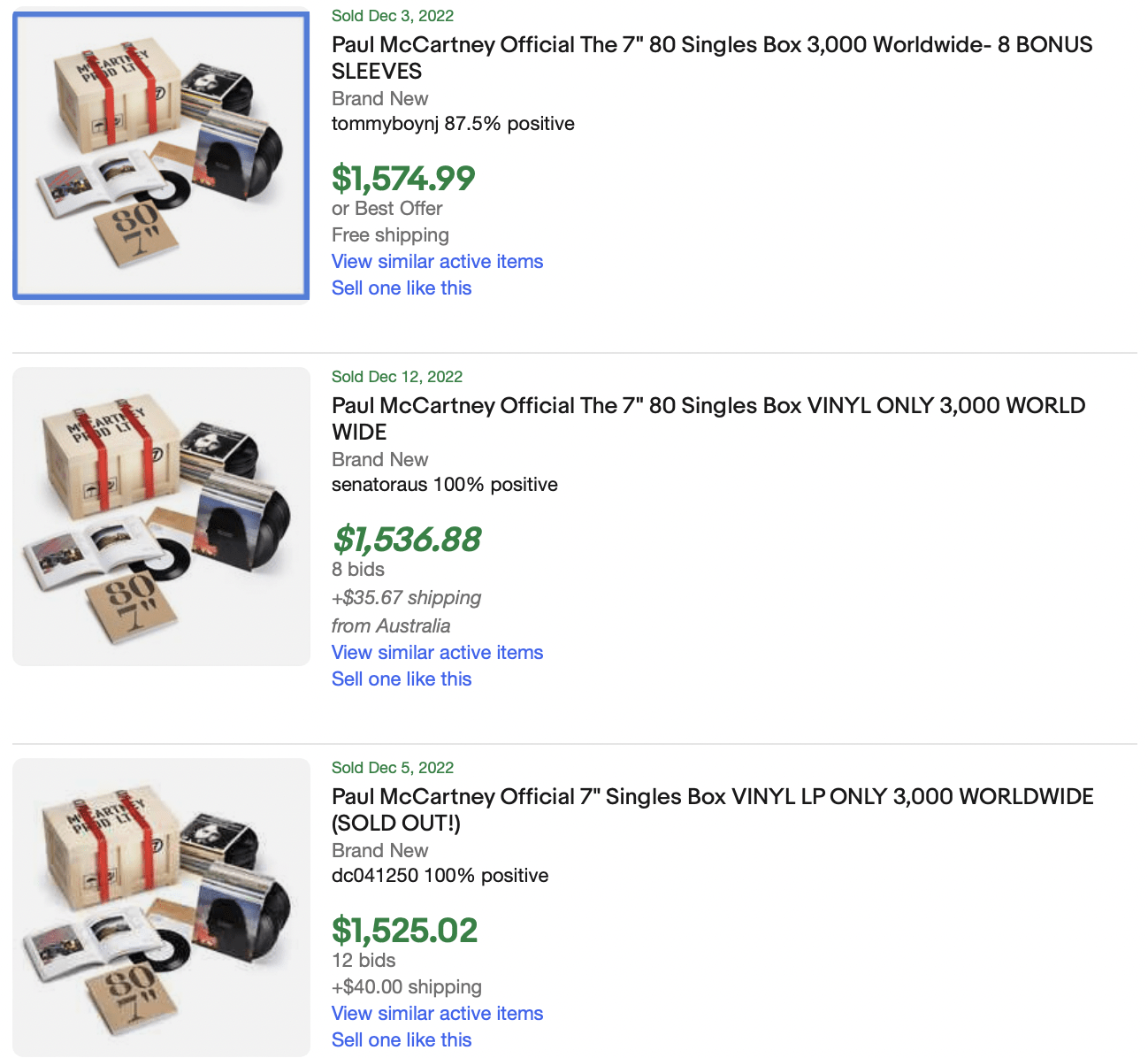 Specifications
Type
Limited Edition
Brand
Unknown
Location

Online

Product released online.
Similar
Resell items like this one.