Roblox Pet Simulator X Titanic Blue Balloon Cat Plush
This is the difference between the sale price and resell price. It does not take into account any costs associated with reselling. Things like shipping, storage fees, if applicable.
250
Sale Price. The price at which the reseller purchased the item.
750
Resell Price. The price at which the reseller sold the item.
This blue 22" tall plush comes with an exclusive in-game code to receive the equivalent pet in the popular Roblox game, Pet Simulator X. 
Item was purchased, then resold immediately.
Timeline
Announcement
Teaser Post
On January 8th, Pet Simulator X developer BIG Games shared a sneak preview of the new "Titanic" plush figures on Twitter.
Announcement II
New In-Game Pets
Later in January, Big Games revealed another piece of key info about the Titanic plush figures: they would come with in-game pets, and both a red and blue variant would both be releasing.
Announcement III
Release Date Unveiled
As hype for the 2 plushes ballooned within the community, Big Games finally unveiled a release date of February 26th, stating they would be extremely limited with no restock.
Release
Limited Release
The Red and Blue Titanic Balloon Cat Plushes released on Sunday, February 26th at 9 AM PST. Each color had a total of 1,000 put in-stock.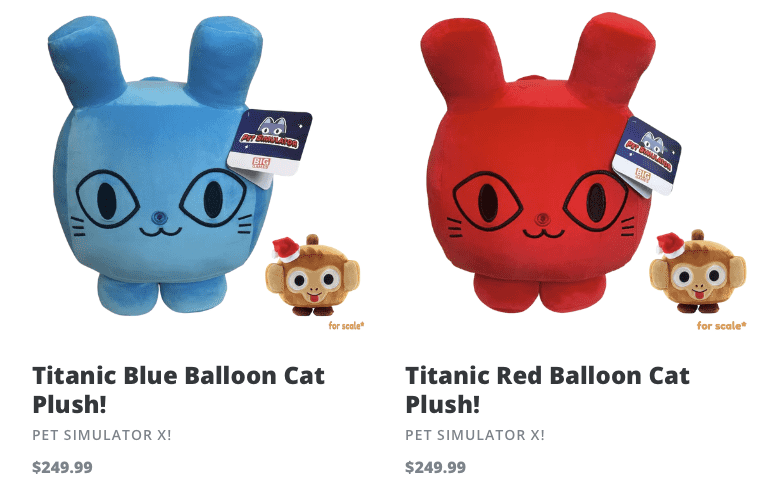 Sold Out
Blue Sells Out
The blue plush was most popular of the two colors, selling out in only 4 minutes. In comparison, the red plush sold out in roughly 8 minutes.
Resell
Huge Same-Day Sales
Within just hours of release, fans that missed out on the initial drop flocked to eBay, buying confirmed orders of the Blue Titanic Balloon Cat Plush for as much as $750 or more.
Specifications
Difficulty
Type
Hype
Hold Duration

Instant Flip

Item was purchased, then resold immediately.

Brand
Pet Simulator X
Location

Online

Product released online.
Similar
Resell items like this one.