Leatherman Garage Batch #005 40th Anniversary Tool
This is the difference between the sale price and resell price. It does not take into account any costs associated with reselling. Things like shipping, storage fees, if applicable.
275
Sale Price. The price at which the reseller purchased the item.
1,100
Resell Price. The price at which the reseller sold the item.
This fifth entry in the Leatherman Garage series celebrates the brand's 40th anniversary. This Cerakote multi-tool boasts 20 useful functions. It is the first multi-tool in the industry to have a primary blade made from MagnaCut steel, and notably combines Leatherman's FREE technology with spring-pliers. Limited edition of 1,983.
Item was purchased, then resold immediately.
Somewhat challenging to resell.
Timeline
Announcement
Leatherman 40th Anniversary Tool Unveiled
On June 27th, 2023, Leatherman took to YouTube to unveil Garage Batch #005: The 40th Anniversary Tool. While reception on other recent entries in the Garage series had been lukewarm, comments on this video were overwhelmingly positive.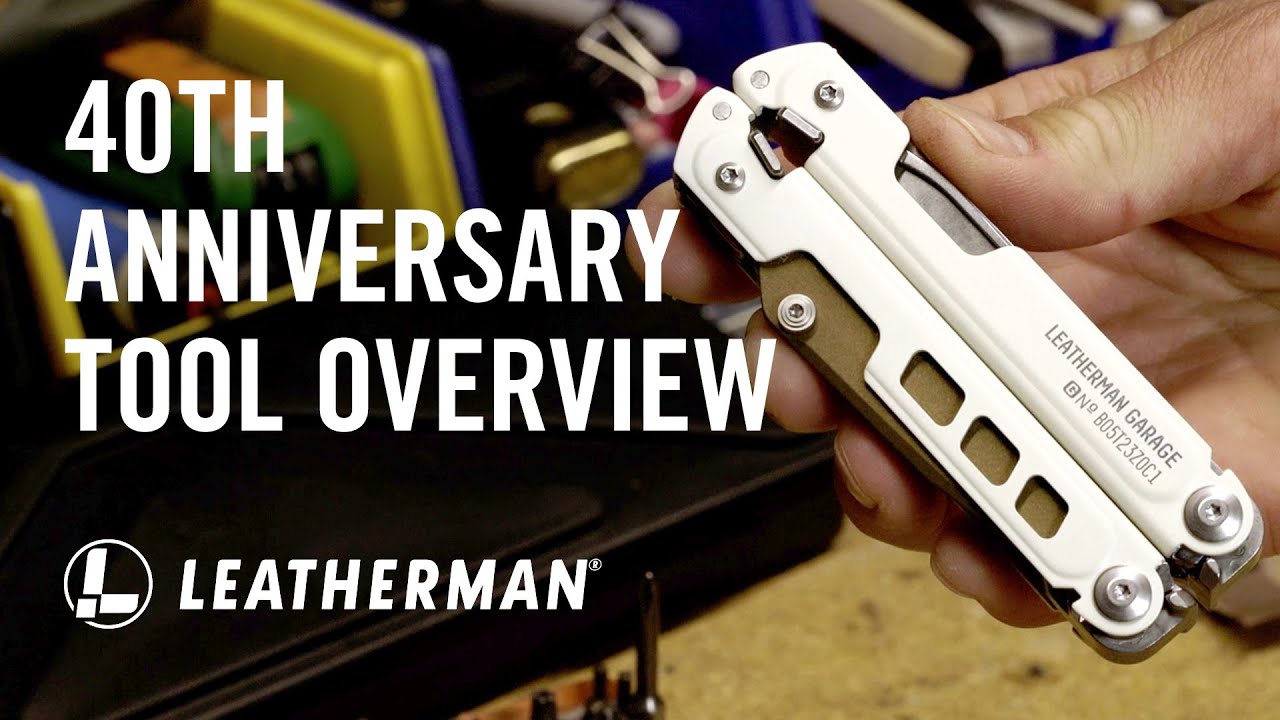 Leatherman Garage: 40th Anniversary Tool
Lee Leatherman, Director of Special Projects, walks us through the features of Garage Batch #005, the 40th Anniversary Tool. Each tool was built by hand in P...
https://youtu.be/CwIum3LxFKE
Release
40th Anniversary Tool Releases Online
On July 5th at 9:00 AM PST, the 40th Anniversary Tool released online via Leatherman's website. Due to overwhelming demand, many users experienced site outages.
Sold Out
40th Anniversary Tool Sells Out
The multitool sold out after roughly 20 minutes, which was likely longer than they would have been in stock if it weren't for the site outages.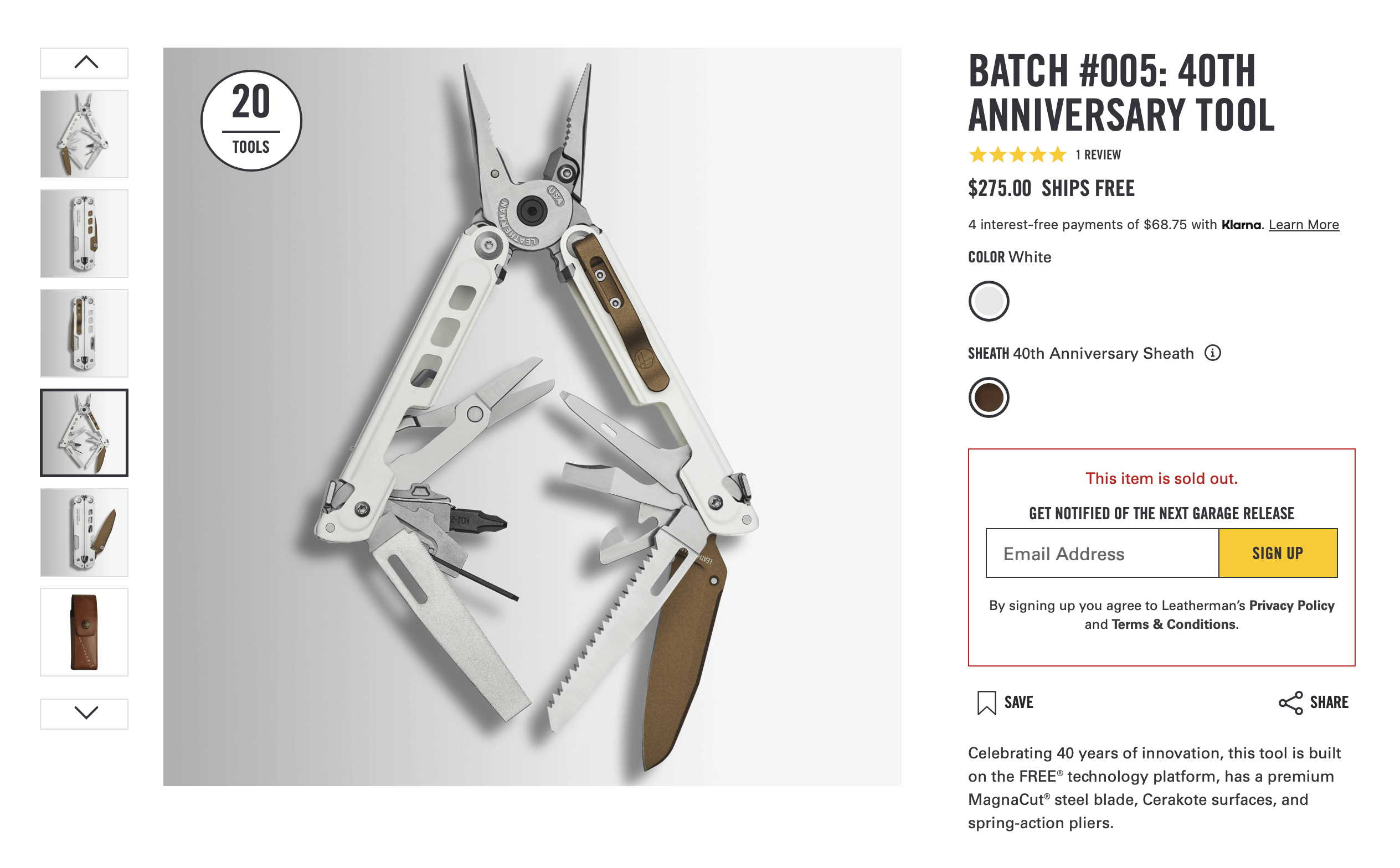 Resell
Aftermarket Heats Up
Within a week of the multitool selling out, dozens of Leatherman 40th Anniversary Tools had sold on eBay for the $1,000 mark and higher, illustrating the massive value that collectors placed on this release.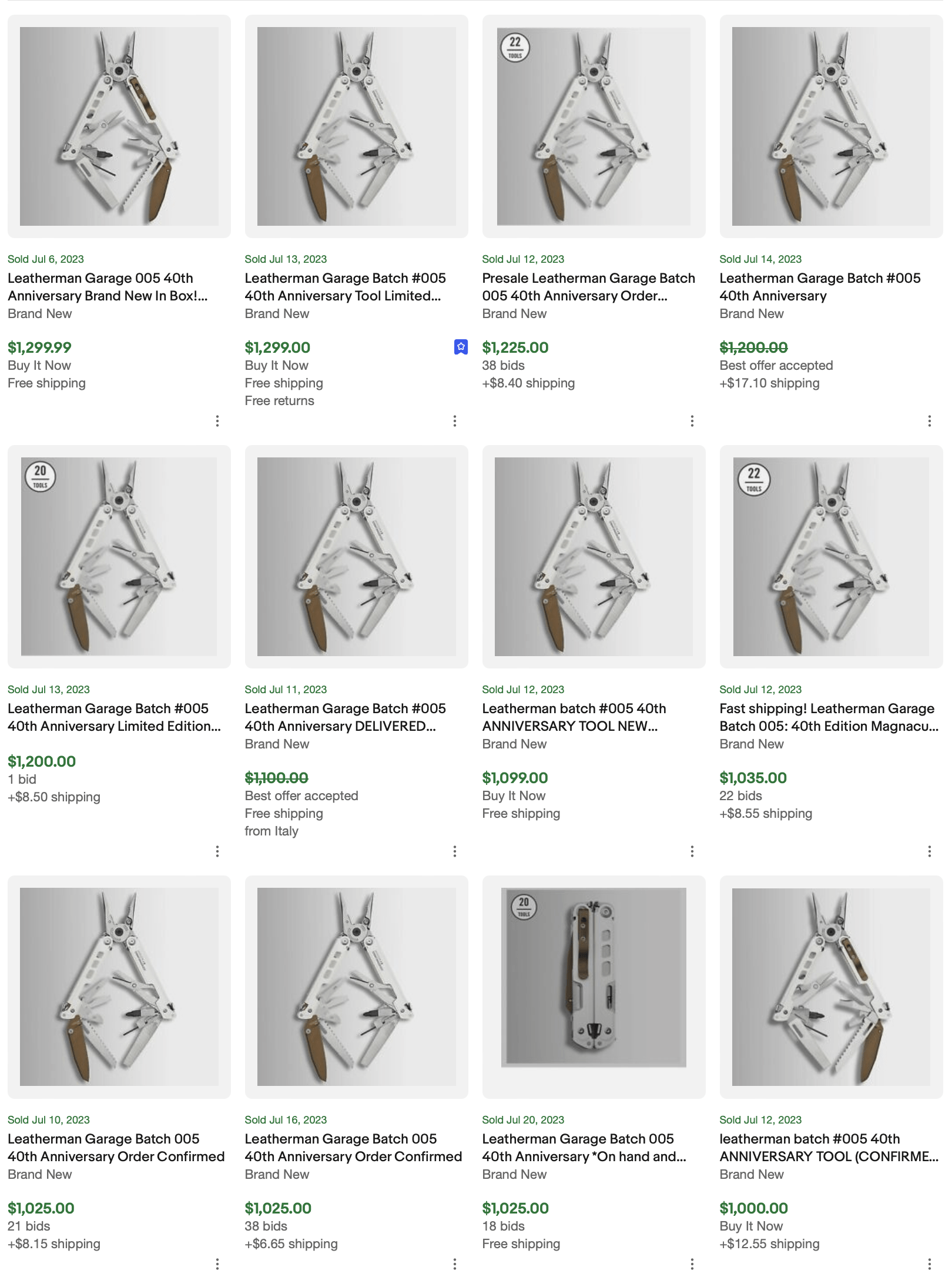 Specifications
Hold Duration

Instant Flip

Item was purchased, then resold immediately.

Brand
Leatherman
Type
Limited Edition
Difficulty

Medium

Somewhat challenging to resell.

Material
Metal
Origin

United States

Item originates from United States

Location

Online

Product released online.
Similar
Resell items like this one.