G-SHOCK 6900-PT1 By John Mayer
This is the difference between the sale price and resell price. It does not take into account any costs associated with reselling. Things like shipping, storage fees, if applicable.
180
Sale Price. The price at which the reseller purchased the item.
300
Resell Price. The price at which the reseller sold the item.
This collaboration between Hodinkee and John Mayer marks the final piece in a notable trilogy of holiday watch releases that originally kicked off in December of 2020. This watch presents in an understated baby blue, inspired by John's first keyboard, the Casio PT-1. The previous year's models were black (2020) and white (2021).
Item was purchased, then resold immediately.
Timeline
Announcement
Hodinkee Announces the Watch
Hodinkee took to Instagram (with short notice) to announce a release date of the following day.
Launch
Release Day
The release time was notably not announced in advance, however the watch went live for sale at 7:50 AM PST, with a reported stock level of roughly 9,000 units.
Sold Out
Sold Out
The entire supply of watches sold out just over 3 hours after launch, at 10:52 AM PST.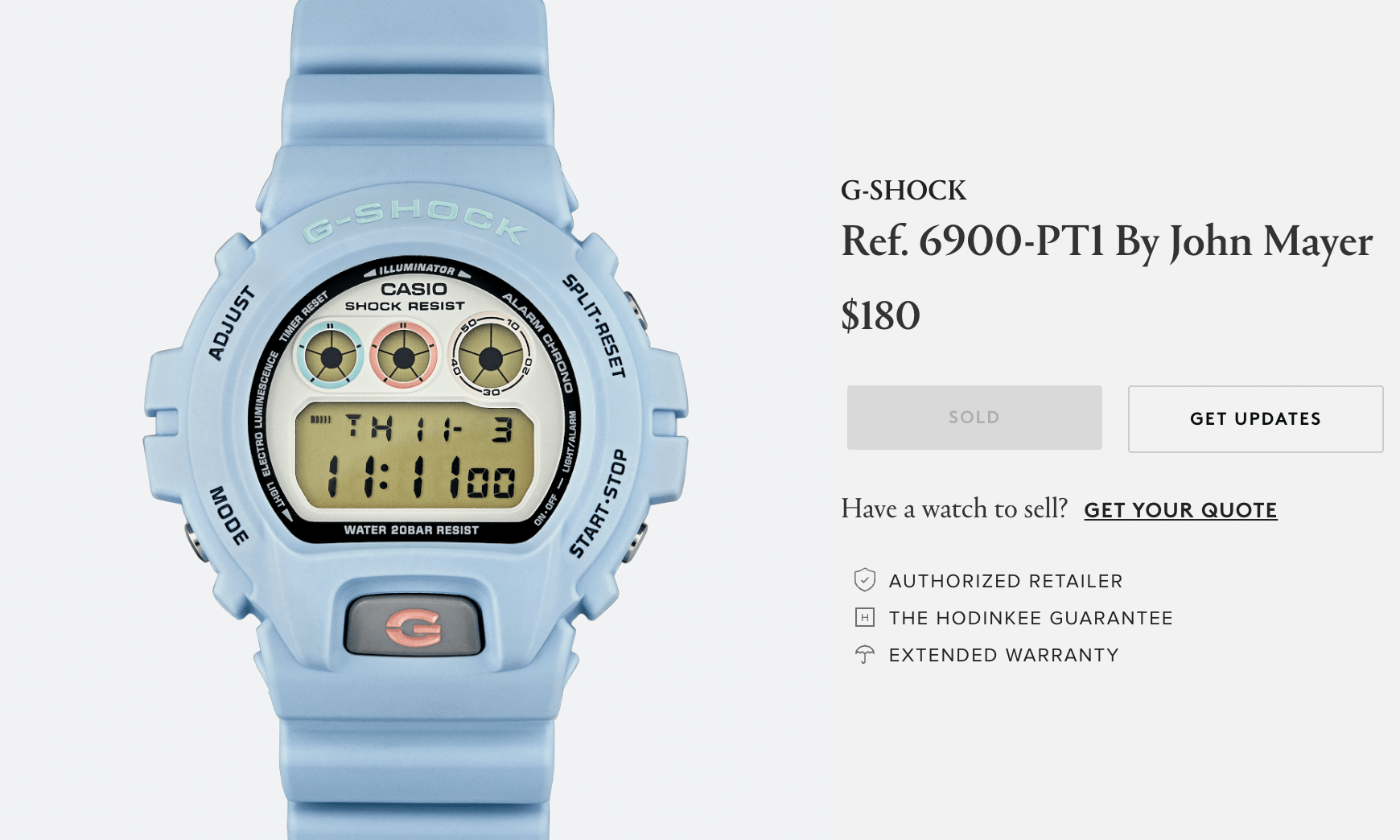 Resell
The Watch Sells for $300 on eBay
Given the watch selling out fairly early in the day, combined with the short notice from Hodinkee and desirable design features, numerous confirmed orders of the watch were sold on eBay as soon release day. It is probable that buyers ranged from Christmas shoppers to John Mayer/G-SHOCK fans to serious collectors hoping to finalize their trilogy set.
Specifications
Difficulty
Brand
G-SHOCK
Type
Hype
Hold Duration

Instant Flip

Item was purchased, then resold immediately.

Origin

United States

Item originates from United States

Location

Online

Product released online.
Similar
Resell items like this one.